A SCUBA GAL WALKS INTO A BAR AND COMES OUT WITH A VISION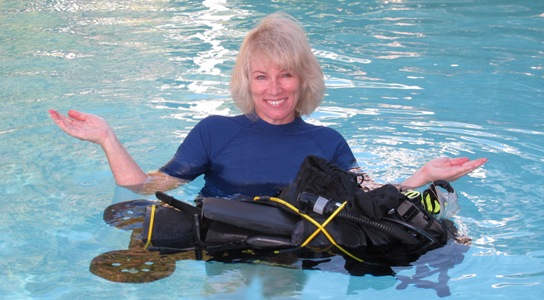 It started with a question, which sparked my quest to develop a real answer.  I had spent the day introducing a friend to the joy of beach diving.  As we unwound and shared stories at the local watering hole later, the question was posed "It's such a hassle to haul all that gear to the water, isn't there a better way?"  With my imagination piqued, I grabbed a cocktail napkin and a pen and began to sketch out what ultimately became the first design of Beach Buddy ~ a transport system that takes all your gear in one trip, then goes with you on the dive.
I've been a diver and scuba instructor for more than 15 years, and have been fortunate enough to experience many of the most beautiful dive sites on the planet ~ not all available by boat. Even being a strong athlete (including marathons), I've struggled making multiple trips back and forth, leaving expensive dive and videography gear subject to theft. I've heard folks talk about great potential dive sites that are a pain to get to and are therefore left unexplored. As I scribbled on the napkin that evening, I became inspired by the idea of removing limitations on where to dive, and making beach diving easier and more fun. Beach Buddy was my answer.
Designing an exceptional consumer product is no small task; fortunately my background served me well. I leveraged my education (BA in Economics, Accounting and Sociology; MBA in Marketing and MS in Information Systems) and my 18 years of experience running a successful consulting company.
Once I had the first product design, I spent the next year researching the best materials, and testing prototypes in a variety of dive situations worldwide. I had dive buddies, divemasters and instructors use it and provide feedback.  Committed to producing a product that was extremely useful, of high quality, and sold at a fair price, I participated in trade shows to capture comments and suggestions from industry professionals and divers.  I went through over a hundred different fabrics before picking those perfect for the sleeve, wheel cover bag and travel bag.  I tested more than 70 different wheels before designing my own which are light and compact, yet can carry a hundred pounds in soft sand.  Almost every component had to be specially manufactured just for me.  It was truly a labor of love.
After many revisions and tests, Beach Buddy was finally born.
At about 4 pounds (8" x 5") Beach Buddy is perfect for travel.  Just remove Beach Buddy from its water resistant Travel Bag, open up the sleeve, place your tank in, close the Velcro, cinch the top straps and your tank is secure in the sleeve.  Stand the tank up and slip on your BC and attach your regulator as usual.  Lay Beach Buddy on its back, open up your BC and place your gear inside (fins, mask, snorkel, regulator, etc).  Wrap the flaps around your gear and secure the whole bundle with the specially made marine bungees.  Pop on the quick release wheels, grab Beach Buddy by its flexible reinforced handle and roll it across whatever terrain is between you and the water. Once at water's edge (or with a bit of air added to your BC, in the shallows) remove the wheels and secure them to the bottom, slide back the bungees and take out your gear, and you're ready to head out, leaving nothing on shore.
Enjoy your dive as usual; Beach Buddy's streamlined design doesn't interfere in any way; it nestles around your tank, essentially "invisible" during your dive experience. When you come out of the water simply re-secure your diving gear, pop the wheels back on, and roll Beach Buddy out of the water and back to where you started. You never have to carry your gear again!
As an entrepreneur, I have a choice and responsibility in how I run my business, and the impact my product and practices have on people. A higher profit could be made by making Beach Buddy outside the country, even outside of California, or by settling for lower quality components and non-recyclable packaging materials. Instead, I chose to support our economy, and to honor our environment so that the joy we all get from diving can be passed on to future generations.